SATURDAY, MAY 20
SUNDAY, MAY 21
Explore 79 art studios in Chester County and get to know the artists showing in them. Learn about their crafts and processes, and perhaps find a unique piece to start your day. Support our local artists, understand their stories and connect with the art world around you.
​
There is something truly unique about starting your day with art. Maybe when you wake up, the first thing that makes you smile is what you see hanging on your wall. It could be that handmade mug into which you pour your favorite coffee. Starting the day with art connects you to the world around you.
County Studio Tour is a spectacular way to explore the creative world of local artists. What is often inaccessible to the public is the ability to see an artist in their own space, working on pieces that they are passionate about. By being able to connect with the art and artist on a deeper level, it is possible to retain those special moments that art provokes. The Chester County Studio Tour provides that connection for one weekend yearly.
LET US FIND THE
5 CLOSEST STUDIOS FOR YOU!​
​
Sometimes you don't have all day to enjoy the arts but want to get your creative on. We've made it even easier for you, just pick your county from the drop down and we'll plot out the 5 closest studios to you. No matter where you are.
​
CATALOGUES ARE AVAILABLE
FIND ONE WITH OUR ADVERTISERS or LOCAL BUSINESSES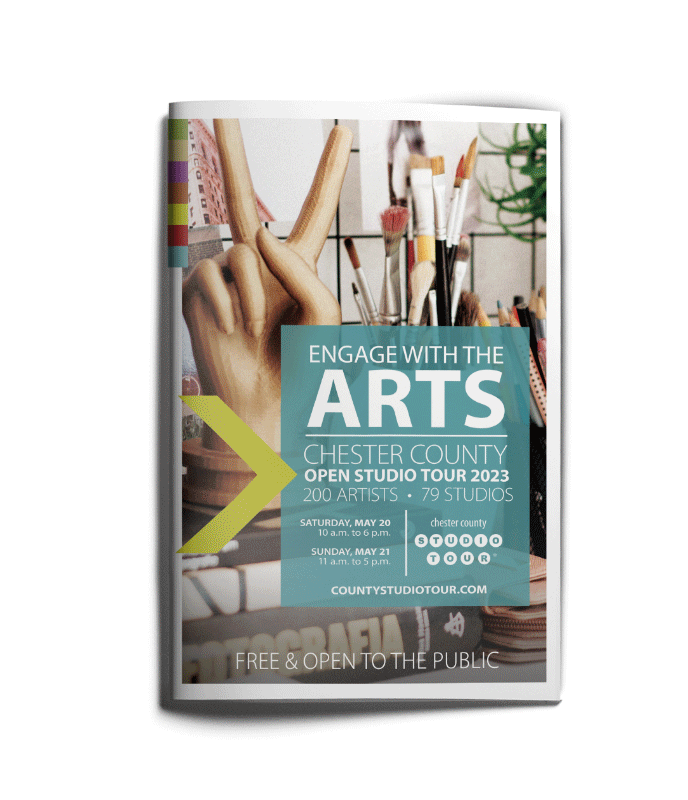 The Art Trust (West Chester)
Visual Expansion Gallery (West Chester)
Sunset Hill Gallery (West Chester)
The 5 Senses (West Chester)
Chester County Art Association (West Chester)
The Merchant of Menace (West Chester)
The Charleston Firm (West Chester)
Spring City Mill Studios (Spring City)
Studio 3 (Downingtown)
Green Street Grill (Downingtown)
The Wright Agency (Downingtown)
Main Line Art Center (Haverford)
Wayne Art Center (Wayne)
We are very excited to host our thirteenth annual Chester County Studio Tour on May 20th and 21st. The County Studio Tour creates an incredible opportunity to explore the creative process of a variety of artists and allows you to gain firsthand insight into their work. This one weekend in May gives you the freedom to visit the artists' studios, meet the artists and learn about their techniques. As you wander through the studios, you'll discover unique pieces that can be purchased directly from the artists. By shopping local and supporting these talented individuals, you are helping foster a vibrant creative community.
Whether you are an art enthusiast or just curious about the creative process, the studio tour provides an experience that will stay with you for a long time. We invite you to meet this year's 200 artists and discover what their motivations and inspirations are.
Join us for this amazing adventure that combines art, creativity, and community!
​
​
Jeff Schaller, Organizer & Founder