A STEP BY STEP VIDEO ON
HOW TO REGISTER
Collectors Home Tour




Saturday,

May

6th




6:00 - 10:00 PM
$75

(per person)
Tour 3 Collectors Homes while Sipping on Curated Libations and Noshing on Edible Delights.
LET US FIND THE
5 CLOSEST STUDIOS FOR YOU!​
​
Sometimes you don't have all day to enjoy the arts but want to get your creative on. We've made it even easier for you, just pick your county from the drop down and we'll plot out the 5 closest studios to you. No matter where you are.
​
PLAN YOUR TRIP AND BUILD YOUR OWN ITINERARY
​
Follow the map through the winding roads and rolling hills until you reach the door of an artist's studio. There you can join artists on their journey and begin experiencing art everywhere in every county. If that sounds daunting, we encourage you to plan a day or the whole weekend exploring. You won't be able to visit all the artists in one day or two so take your time and enjoy.
Plan your day and get out early to start or add to your art collection.
​
County Studio Tour have revolutionized the way you tour the County. Visit the artist or studio pages and plan your own itinerary by selecting artists or studios you want to see! Pick your artists, and let us plan your most efficient route. You can either print turn-by-turn directions, or use your mobile phone for turn by turn directions
We invite you to visit our studios to catch a glimpse into our inner workings, creativity, and inspiration.
LET US
FIND THE
5 CLOSEST STUDIOS FOR YOU!​
​
Sometimes you don't have all day to enjoy the arts but want to get your creative on. We've made it even easier for you, just click the "Find 5" button and we'll plot out the 5 closest studios to you. No matter where you are.
​
We'll even offer a place to eat!
CATALOGUES ARE AVAILABLE
FIND ONE WITH OUR ADVERTISERS or LOCAL BUSINESSES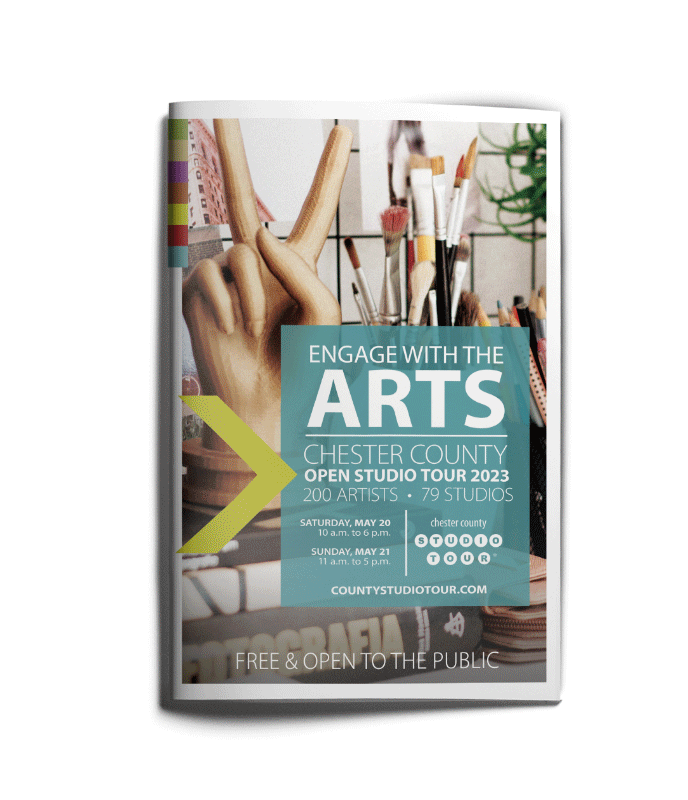 The Art Trust (West Chester)
Otto's Mini & BMW (Exton)
Brandywine River Museum (Chadds Ford)
Visual Expansion Gallery (West Chester)
Sunset Hill Gallery (West Chester)
The 5 Senses (West Chester)
The Merchant of Menace (West Chester)
The Charleston Firm (West Chester)
Eclat Chocolate (West Chester)
Ivystone Gallery (Downingtown)
MacLaren Kitchen & Bath (West Chester)
Historic Yellow Springs (Chester Springs)
Spring City Mill Studios (Spring City)
Studio 3 (Downingtown)
Denron (Downingtown)
The Wright Agency (Downingtown)
LET'S DO ALL
3 COUNTIES!
$1000
DELCO
FULL PAGE
$400
October 3 & 4
MONTCO
FULL PAGE
$450
June 13 & 14
CHESCO
FULL PAGE
$500
May 16 & 17
HOW TO APPLY
ON-LINE TO SHOWS
With a few clicks of the mouse you can be showing in any town, any state across the United States. Starting with the basics we'll break down image preparation and formatting, from CMYK to RGB then onto DPI. Not sure what all those acronyms are? That's why we are starting from the beginning. Once we have the basics then we'll address taking the best booth shot and applying to the best shows. After this lecture you'll be impressing jurors and buyers with the knowledge you've gained and showing more of your art.
We invite friends, families, art enthusiasts, and the curious to experience and meet a variety of outstanding artists as they exhibit their work during this two-day event. This unique and intimate opportunity creates a free, unlimited access to the artists, and a clearer understanding of our stories and creative processes.
MEET
THE ARTISTS
COUNTY STUDIO TOUR
Thank you for applying to the County Studio Tours.
Please select "host studio" or "guest artist" from the county that you will be exhibiting in from the selections below. You may also order your postcards, extra 6" x 6" frames and an "ARTIST" t-shirt. Once you have selected all your items you may proceed to check out.
2019 Chester County Studio Tour balance must be paid by February 24th.
There will be a $25.00 late fee applied to your entry fee to cover shipping and handling for studio materials if not paid by February 24th.
A UNIQUE AND POWERFUL OPPORTUNITIY
We have created an event that brings awareness to professional artists working and creating in the community, seeking a mutual business respect with the established businesses supported by local patronage. The tour has the means to traverse the
county reaching the boundaries and pulling neighboring counties in to patronize
our local businesses.
We have teamed up with local businesses and art centers to share with you the benefits of joining the studio tour. Come out and introduce yourself to other artists in your area and put your studio on the map. All Q&As will have a short 30-minute presentation about the studio tour as well as an opportunity to ask your questions.
​
Tuesday, June 6th 7:00 - 8:00 p.m.
Wallingford Art Center
414 Plush Mill Road, Wallingford PA 19086
We are excited that ARTS MontCO, MONTCO Forward and Montgomery County Commerce Department has partnered with us in supporting our mission of promoting local and regional artists. Artists contribute to the economic and cultural vitality of the area by presenting original artwork and sharing their studios with the public.
BE A PART OF SOMETHING BIG.
JURY IN TWO COUNTIES FOR $30.00